My Wonderful Book's Sweet Review from Publisher's Weekly!
The Longest, Darkest Night! review by BookList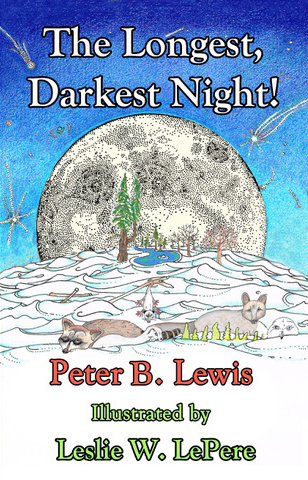 The Longest, Darkest Night is an illustrated children's story about the wonders of nature, celestial cycles and the "humanness" of animals. This tale of wonder is perfect for ages 4-10. It is NOW AVAILABLE as an e-book on Kindle, an audio book on Audible, in print through independent bookstores, Barnes & Noble and Amazon and at Peter B Stories.
Following is a review of The Longest, Darkest Night! by Booklist, a product of Publisher's Weekly.
"Young readers with an interest in the natural world
will enjoy learning about a rare celestial event."
A group of nocturnal forest creatures learn about lunar eclipses in this educational picture book. In a frozen woodland on the winter solstice, the forest's animals and trees join in on a night of storytelling. The eldest of the forest, Grandpa Cedar, is excited to share a story , but all the animals—Ms. Owl, Young Weasel, Madam Opossum, Mr. Racoon, and Brother Fox—are too scared to listen, as they see the moon slowly disappearing. Even the maple tree shivers with fear. After several tries, Grandpa Cedar is finally able to get through to the other animals. The wise old tree explains the total lunar eclipse, bringing comfort to the entire forest.
LePere's radiant illustrations of the animals, trees, and colorful changes of the moon seamlessly complement Lewis's words. Attentive readers will enjoy tracking the visual progression of the eclipse across each page, while Lewis's explanation of the phenomenon is clear and easy to understand.
The reactions of owl, fox, weasel, raccoon, and opossum show a delightful range of how people can react to the unknown—hesitation, calm, panic, fear, and denial—and might provide a helpful guide for children who need help navigating new things and places. The core message encourages readers to tune in and listen to nature. Grandpa Cedar's knowledge and wisdom also highlight the importance of listening to the sage advice of elders, especially when a strange or confusing event is happening.
As a bonus, the book includes peer-reviewed back matter that can help the reader learn more about the moon, celestial events, and nocturnal animals. Parents and teachers seeking supplements to STEM curricula or gifts for young naturalists will appreciate Lewis and LePere's engaging, colorful narrative.
Great for fans of Ellen Jackson's The Winter Solstice, Katy Hudson's A Loud Winter's Nap, Wendy Pfeffer's The Shortest Day: Celebrating the Winter Solstice.
Please share your thoughts on The Longest, Darkest Night! by leaving a review on Amazon, Barnes & Noble, Audible or GoodReads. Thank you!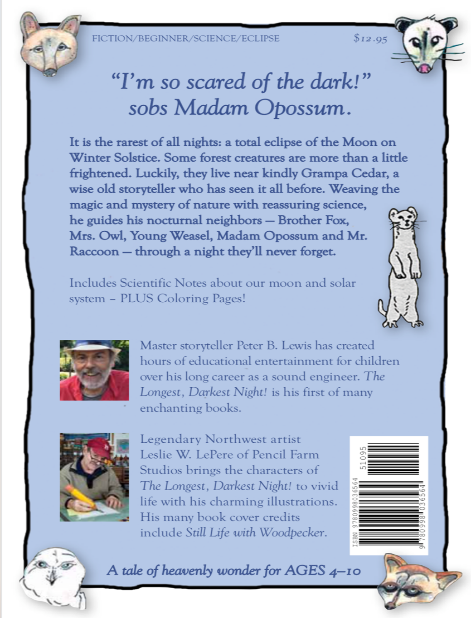 This delightful book includes coloring pages and scientific notes that kids will enjoy. The meaningful story is great read aloud in a classroom or homeschool reading time, and makes a great addition to your home or school library. The book is also a perfect gift for your grandchildren!
Peter B Lewis is an author and inspirational storyteller. His enchanting tales create visions in your mind with important messages for today. He can be found on Facebook @PeterBLewisStories.